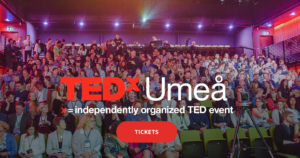 Markus have the honor of presenting some of our research on TedX Umeå. More precisely he will be talking about boredom on Everest, how that may kill and how they manage it –> and what ordinary organizations may learn from it. Find the information about Markus´s presentation below:
Information about the event, here
Managing the risk of boredom: Insights from Mt Everest
About me
I'm a professor in management at Umeå University, and genuinely curious about the impact of time and anything extreme in, and on society. I have researched extreme contexts such as mountaineering, emergency departments at hospitals and the police, and naturally published extensively in various journals. Together with my research team www.tripleED.com my latest project is concerned with the everyday activities in commercial mountaineering expeditions.
Why listen to me
I will bring you along to the roof of the world by elaborating on the dangers of being bored at Mount Everest, how commercial expeditions mitigate these risks, and how any organization may improve their business by learning from the insights gained in a setting where failure is not an option.